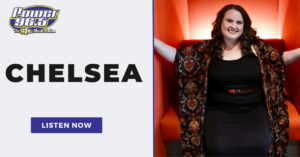 Chelsea grew up in Kansas City, Missouri and after attending Missouri State University, she loved the Ozarks so much she decided to make it her home! She's married to the wonderful Dillon Hasten, and is a dog mom to her adorable Corgi Penny Lane. Growing up, Chelsea was heavily involved in theatre and starred in many musical theatre productions, including some productions at the Springfield Little Theatre. She's a HUGE fan of music, specifically country. Chelsea loves going to concerts, watching her husband play in his band around town, Friday Night Art Walks, and enjoying lots of great food and roller coasters at Silver Dollar City!
Catch Chelsea during mornings with Fotsch & Friends all week long!
You can also hear Chelsea Sundays from 2 PM – 5 PM.